Thank the Golfing Gods we had that dramatic and entertaining end to The Masters. After Friday's nasty rules controversies surrounding 14-year-old Tianlang Guan and Tiger Woods it seemed the 77th Masters might be sullied by the specter of those unpleasantries. Saturday's third round and the majority of Sunday's final round did little to remove the stench of viewer call-ins and cries for Tiger to withdraw (absurd). But, as often happens in life, things work out themselves out and the negative hoopla faded away. Adam Scott and Angel Cabrera gave golf fans three holes of superb golf, the kind we all want to see decide a major championship. Here is what I take away for each of the players in Sunday's drama:
 Adam Scott: He's a national sporting hero in Australia. The first from his country to win a Green Jacket. After his crushing loss to Ernie Els last summer at the Open Championship some wondered whether Scott would be able to rebound in majors. He proved that the scar tissue was healed (if it ever existed) when he finally made putts on the 72nd green and on the second playoff hole to capture his first major. I don't want to add more expectation on him though. Might this open the flood gates in majors for him? Sure. He's only 32 and entering the prime of his career. I wouldn't be at all shocked to see end his career with two or three more, he certainly has the game to do it. But for now, let's just let him soak in the glory he earned Sunday.
Angel Cabrera: I was completely floored when he held off Tiger Woods and Jim Furyk at the 2007 US Open at Oakmont. I was even more suprised when he bested Kenny Perry and Chad Campbell at The Masters in 2009. And when I heard that he had fallen to 269th in the world rankings I asked myself, how can that happen? I have resolved to never be surprised by El Pato (The Duck) again, the last surprise was his incredible approach to 18 right after watching Adam Scott's dramatic putt. His inconsistency has established a pattern. He has 2 PGA Tour wins, the aforementioned majors, that's it. He also played in the final group at Augusta with Rory McIlroy in 2011. His effortless power (he nearly outdrove Scott on the second playoff hole with an iron) and imaginative short game are well suited to Augusta National. He'll pop up again, at some major and he might just win it.
Jason Day: You've got to feel for the 25-year-old Aussie. Tied for second with Scott in 2011, beated only by the unprecedented run of 4 consecutive birdies by Charl Schwartzel. He had the lead standing on the 16th tee. Then consecutive bogeys ended his chance to be the first Aussie to win The Masters. Day bogeyed 17 and 18 Saturday to fall out of the 54-hole lead. But he reminded us that he has the game to win majors. I just hope he learns to speed up his routine. The nickname "Takes All" Day is appropriate and brutal to watch. And I have to wonder if the amount of time he takes allowed for doubt to creep in has he came down the stretch. In a classy move during his post-round interview with CBS' Bill Macatee Day said "I'm really pulling for Scotty [to win]."
Tiger Woods: First, let's all move on from "Dropgate". It is now a completely moot point. Woods did not win, nor did he finish within two strokes of the lead. Done. No more discussion. Tiger tried to make a run on the second nine, actually it began with a birdie on the 9th. Woods' luck ran out when he could not convert an eagle try at the infamous 15th that would have moved him to 6-under-par and a shot behind then-leader Angel Cabrera. He did earn his seventh top-6 finish in eight years since his last victory at Augusta. The "what-if?" game could go on forever over his ill-fated wedge at 15 on Friday. But more pertinent is when he ends his major drought. The US Open will mark exactly five years since his 14th major in 2008. While Woods still has time to catch Nicklaus' 18, he had better get back on the train soon.
Marc Leishman: The third Aussie vying for his country's adoration never really seemed to be in it Sunday. But an impressive T-4 finish with Woods is a strong showing to be sure. Leishman was rookie of the year in 2009 and earned his first Tour win last summer in Hartford. He's proven he can hang around in majors, so expect him to make a push to get on a crowded International Presidents Cup team. He was also pumped for his countryman on the 72nd green, check this photo, it's Leishman in the background: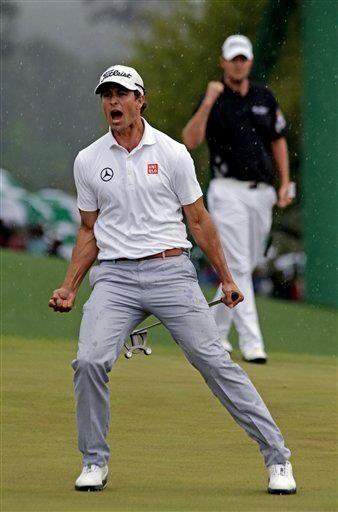 Brandt Snedeker: I thought he was the man to beat Sunday. His quote "I've been preparing for today for 32 years" was enough to convince me that Sneds' time was now. But his putting, the strength of his game, abandoned him. He was done in with an errant second shot into 13 that found the water. Afterward he was shown bending (nearly snapping) his 3-wood. I think Snedeker has reached a point where he is the best American player not named Tiger Woods. In January I picked him to win the PGA Championship and I will have him on my list of major contenders all year.
Thorbjorn Olesen: The most fun name on the final leaderboard. "Thunder Bear" is proving that he is more than a fun name to say. His top 10 finish at the Open Championship last year and strong start on the European Tour have convinced me that the young Dane is here to stay. Expect him to become a regular on an already stout European Ryder Cup team and contend in more majors this year.
Tianlang Guan: The best story before Sunday was the 14-year-old from China. The youngest Masters participant and second youngest player to ever compete in a major exceeded expectations this week. As the only amateur to make the cut, he earned Low Amateur honors joining the likes of Tiger Woods, Phil Mickelson and Jack Nicklaus to achieve that at Augusta National. He endeared himself to the world by the classy way he handled the unfortunate slow play penalty he received Friday by saying he accepted the decision. Then, there was his play. A first round 73 was capped by a birdie at 18, I thought there was no way the kid would break 80. Not only did he break 80 Thursday, he did so in each round. Guan is not some long hitting prodigy who booms it 300 yards off the tee, either. He was hitting fairway woods and hybrids into many of the greens. It was his putting that carried him. Augusta National is known for its complex greens that take years of experience for some players to figure out. The most incredible stat of the week is that Guan had ZERO three-putts. NONE. Well done, young man, well done.
In the end, this Masters gave us what we wanted, an thrilling finish. Where does it rank in the all-time list of greatest Masters? Who knows. Right now, who cares? Let's enjoy it for what it was, great golf played by great players to decide a great tournament.