Tim Finchem is on an island, as depicted by 1995 PGA Champion and current Champions Tour player, Steve Elkington here: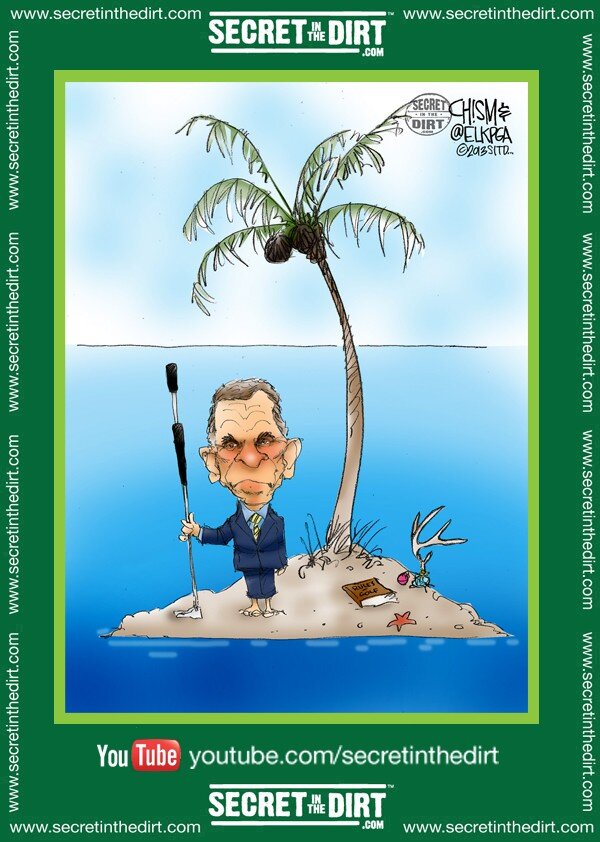 Or more appropriately, Finchem may soon find himself quoting Stevie Ray Vaughn, "I am stranded, caught in the crossfire."
When the Commissioner of the PGA TOUR made his announcement of the TOUR officially opposing the proposed ban on anchored putting by the USGA and R&A he had to expect some backlash, and analysis, and questions, and that's what has happened in the 48+ hours since Finchem's announcement during the final of the WGC-Accenture Match Play Championship. Here's a round-up of positions taken by various figures in golf:
We start with Rory McIlroy at his Honda Classic press conference Tuesday. You can read Randall Mell's full recap here, but these are the highlights regarding anchored putting:
"We've trusted this game of golf, we've put it in the hands of the R&A and the USGA, for I don't know how many years," McIlroy said Tuesday at The Honda Classic. "And we've always abided by the rules that they have set. I don't think this should be any different. If they think that it's for the good of the game . . . I think golf's pretty good at the minute and it's in good hands."

"You're going to have a few guys that say they don't want it, and there are going to be guys that have used it their whole lives that say that they can't play without it," McIlroy said. "But if it were up to me, whatever decision the USGA comes to, because obviously they had this 90‑day period [for comment], whatever it was, so maybe the pressure that the PGA Tour has put on them, they might change their minds and re-think it. And if they do that, then that's totally fine with me."

McIlroy was uncomfortable with the PGA Tour and USGA and R&A being on different sides of this issue.

"I read a thing that Monty [Colin Montgomerie] said this divide isn't good for golf, and I don't think it is," McIlroy said. "I think we all need to be on one side or the other. It's up to the governing bodies at the end of the day to decide.
Rory went on to say that he thought the decision was a "knee-jerk reaction" based on the recent success in major championships by Keegan Bradley, Webb Simpson and Ernie Els. Overall, Rory just wants everyone to get along, be on the same page. His view is a common-sense approach: whatever is decided, let everyone abide by that decision.
Since Rory mentioned Colin Montgomerie's comments, let's take a look at those             next. From a story in The Telegraph:
"This has opened up a whole new can of worms," Europe's former Ryder Cup captain said. "It's a very dangerous situation we are getting ourselves into and I do hope they can sort this out very, very quickly… I thought, as we all did, that the rules of golf were set by the R&A and the USGA. Tim Finchem has obviously thought otherwise," added Montgomerie on Sky Sports.
The story goes on:
"I think we should go with what the R&A and USGA feel. Whether the long putter should have been banned 20 years ago or not, it should be banned now."
Now on to Golf Channel's Charlie Rymer, an opponent of the ban altogether, who makes some interesting points on the side of keeping the anchored stroke in a blog on GolfChannel.com. In a series of tweets from Tuesday, Rymer made some more points about the importance of choice for golfers when selecting their equipment (you can check his timeline here):
"Golf has checks and balances. Put in a 4th wedge, take out a hybrid or long iron. Wider gap in bottom of bag…Play a lower spin ball, lose check around greens and ability to work the ball…Even if anchored putters are slightly better inside 8 feet, distance control is more challenging outside 8 feet…Also, anchored putters can wreck havoc on touch around the greens…So while many are quick to point out advantage of anchored putters, there is also a down side. All golfers should be free to make the choice…One of the great aspects of golf is that we all have these decisions to make. Gain something here, lose something there."
Furthermore, the other major golf tours around the world are making their positions known. The European Tour has backed the R&A and USGA's position. The LPGA Tour has not made an official statement, but it is believed that they will support the governing bodies as well. None of this is a good sign for Finchem and his Tour.
Birfucation between amateur and professional play is one matter. But bifurcation in the professional game another matter altogether, one that no good can come from. Understand though, Finchem is merely representing the views of his players. Albeit because he believes that to be in the best financial interest of the TOUR. Still, his job is to protect the PGA TOUR. If the players say they want something, and it is a vast majority as is being reported, then Finchem should abide by that.
Above all else, this question remains: Will Golf's major organization risk a schism in the game to simply to keep or ban a method of putting that, as of yet, has not been proven to be a decisive advantage for those who use it?